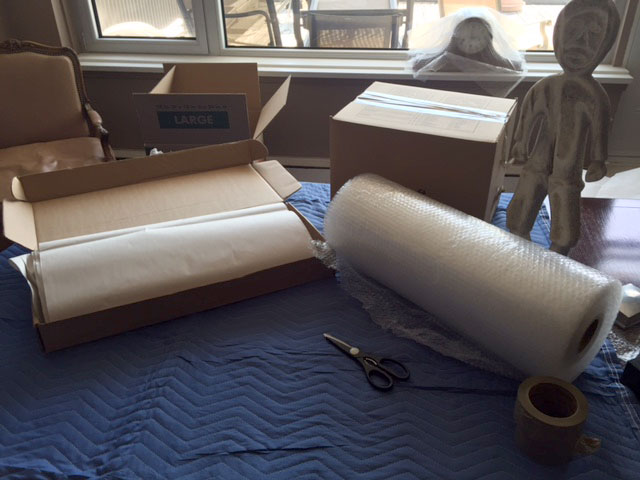 Ideally, ASAP's packing specialists will take care of your packing for you. We can provide you peace of mind with the knowledge that our pros have packed similar items countless times before. We can work quickly and efficiently to minimize the impact on your home life during what can be a stressful time. In addition, ASAP Movers guarantee any item packed by us.
However, if you would like to tackle the packing yourself, try these handy tips – they will save you time and money!
Use Proper Equipment
1) Use new, strong packing boxes that have a lid.
2) Use specialty boxes for mirrors, artwork, stemware, lamp shades.
3) Use bubble wrap for extra fragile pieces, and use packing paper instead of newspaper, as newspaper tends to leave ink residue on your belongings.
4) Use strong packing tape, and permanent markers. Clearly label boxes on the top AND side, and when it comes time to unpack you will be happy you took the little bit of extra time in the first place! Draw a right side up arrow on boxes. Clearly label fragile boxes.
5) Allow your ASAP Movers consultant to guide you when choosing boxes. They can easily advise you when choosing which type / how many boxes will be best for your particular move. Check out our buy supplies page for more information.
Tricks of the trade – DIY PACKING TIPS
Packing
Take your time to do a thorough packing job. The more well prepared you are for your move, the faster your movers will be able to work. Make sure everything is packed, sealed, and labeled before we arrive. If all boxes can be placed in one area, it will save time and money.
The most efficient method of packing is room by room and very clear labeling on the boxes of their contents, and with where you would like them to go in your new home. Once we are at the drop off destination, we will know where to put them right away, and your unpacking process will be much easier.
Boxes/bags
Pack heavy items (such as books) in smaller boxes and light more fragile items in larger boxes (such as lampshades, etc.). Pillows and blankets can be put into large boxes. Always fill boxes with heavier items first and lighter items on top. You want to fill all of the space in your boxes to ensure the box has a sound structure and can be stacked in the truck with ease. That being said, don't cram your boxes so they're overflowing – that is how items break. Make sure your boxes have lids, and are sealed well with tape all around the box – boxes without lids can't be stacked.
Clothing
The easiest way to move clothing is to keep everything on their hangers. ASAP Movers trucks are always equipped with 2 wardrobe boxes that we temporarily provide for you to use free of charge. If you would like us to provide you with wardrobe boxes for you to keep after the move, be sure to let your moving consultant know before we arrive for your move. Avoid over packing clothes in suitcases or hockey bags.
Garbage / Grocery Bags
Avoid using garbage or grocery bags at all times. They are weak and not meant for moving. They can tear easily and cannot be stacked and can be mistaken for trash!
Disassembly/Reassembly of Items
If something big was assembled in your home, chances are it will need to be disassembled prior to moving. We can do this for you, but need to know ahead of time so that we can schedule the time properly and be sure to have the proper tools on hand. Put all of the components (screws, bolts, pegs, Allan key, etc.) in a labeled bag and tape it securely to the piece it belongs to. Also, please let us know if you'd like us to reassemble furniture in your new home.
Wires
Wrap and tape up dangling wires on appliances and hand-carried items, such as lamps and TVs. Use a good strong packing tape. This will save you time and money and ensure a smoother, safer move.
Mirrors/Paintings
Put all of your mirrors and other fragile pieces, as well as the flat pieces such as boards, shelves, prints together. Mirrors and artwork should be placed in specially designed boxes to ensure protection during the move. Use bubble wrap to protect them.
Fragile Items
Clearly mark all boxes containing fragile items "FRAGILE", so that we take extra special care with them. Be sure to wrap fragile items in bubble wrap or packing paper before placing them in boxes. Line the boxes with wadded paper to provide extra cushioning. Use new, strong boxes.
Dishware
Line the bottom of your dish ware boxes with wads of packing paper to give extra cushioning. Never stack dishes in a box flat – they must always be stacked on their sides. Double wrap dishware using 2 pieces of packing wrap per article. Wrap with a purpose, but still loosely enough that the surrounding paper still provides protective cushioning. Stemware should always be wrapped and packed in the box upside down. Use more paper bumpers between and on top of stemware to ensure there is no movement within the box. Youtube has several videos with visual demonstrations.
Overnight Bag
Unpacking can be a long tedious process when deciding where to put your belongings in your new home. Pack yourself an easy to recognize overnight bag that has everything you might need for the next 24-48 hours. All your necessary toiletries, a change of clothes, any medication, and a fresh roll of toilet paper will come in handy.
Appliances
Generally, most moves require the transport of major appliances such as fridge, stove, washer, dryer, and dishwasher. These pieces should be uninstalled by a plumber or electrician prior to our arrival. Especially gas stoves or dryers, fridges with water dispensers, and dishwashers. The same goes for reinstallation in your new home.
Wall mounted TVs
These should be uninstalled and reinstalled from the wall by a specialized technician. ASAP's professional movers wrap them with extra special care to prepare them for transport.
Exceptionally valuable objects
It is strongly recommended to keep and transport certain valuables on your own. Cash, jewellery, heirlooms, bouillon, firearms and ammunition, personal important documents (passports, sin cards, health cards, birth certificates, wills, warranty receipts, insurance documents, etc.), family photos, or other moving related documents are all examples of items that we advise the owners to keep separate from the rest of their belongings that are to be transported on the moving truck.